Tactical Versatilities Real Madrid Can Improve On Next Season
Real Madrid have been guilty of being tactically flawed on many occasions last seasons. There seems to be improvements in Real Madrid tactic ever since Zidane took over, but there are many things that still need to be improved upon.
Pressing
Real Madrid was one of the worst pressing team in La Liga last season. Zidane should try to implement a pressing scheme to facilitate Real Madrid in the attacking third. With that being said, there are certain players in Real Madrid at the moment who are not suitable to press.
Players such as Ronaldo and Benzema have always been bad at Pressing. Especially Ronaldo who have been forgiven for his lack of defensive discipline due to his offensive potency. Albeit, he has improved a lot under Zidane, especially in the big games.
Zidane should implement Gegenpressing. What is Gegenpressing? Gegenpressing is the abilities of a team to regain the ball back as soon as they lose it through pressing or counter-pressing! Gegenpressing is not easy to implement! Players should be in shape, within close proximity of each other, and organized defensively.
If teams are not all of the aforementioned, Gegenpressing could be disastrous. When a team presses, the pressing player(s) and teammates should be in synchronization with good understanding of each other's movement.
Without an understanding of each other's movement, team can leave them vulnerable due to space vacated in certain areas of the pitch; areas that can be easily exploited if certain players are slacking off.
The only players that understand the concept of Gegenpressing in this current Real Madrid side is Kroos. He seems to be the only one who usually entices his teammates to pressure. Even so, the pressing is too individualistic with certain players such as Ronaldo and others ball watching.
Why should Real Madrid implement Gegenpressing?
Gegenpressing give a team defensive solidarity in different ways. If Gegenpressing is implemented in the well and master adequately, it can be one of the most prominent defensive and offensive tactic for a team. How so?
Well, if a team is able to win the ball back within an allotted time limit (usually within 6 seconds or less) they are able to nullify any counter attacking opportunities and always deem to have the ball. An opponent can't score as long as they don't have the ball in their possession.
Gegenpressing always allow a team to be in rhythm offensively and defensively. When a team Gegenpress, they are aware of their spacial dispersity. Meaning, teams who usually implement Gegenpressing do in a fashion where they do not lose space or organization in their pursuit of winning the ball back.
Klopp once said, "The best moment to win the ball is immediately after your team just lost it. The opponent is still looking for orientation where to pass the ball. He will have taken his eyes off the game to make his tackle or interception and he will have expended energy. Both make him vulnerable."
By implementing Gegenpressing in Real Madrid, Zidane is giving his team the best playmaking tool in the world of football. When a team is able to recover the ball in the opposition's half, the opposition is disorganized due to spacing. Hence, once the ball is won, opposition players are out of position which allows the ball winning team to be in an attacking mode. This way, spaces can be found, and numerical advantage can be created in the attacking third.
Positioning
Real Madrid positioning in midfield has always been poor. As depicted in the illustration below, the midfielders seem very comfortable playing in front of the opposition instead of playing behind them.
This is not good when a team is trying to penetrate a well-drilled defensive team down. This is one of the reason why Real Madrid have not been able to beat Ateltico Madrid in the league in the past 2 seasons. This positioning entices the opposition to press knowing without having to worry about a midfielder behind in half-space.
Since all 3 midfielders are playing in front of the opposition midfield, they can't effectively connect the midfield and to the attack hence depending on their fullbacks to do so. This is the reason why Real Madrid heavily depends on their fullbacks to be the main creator.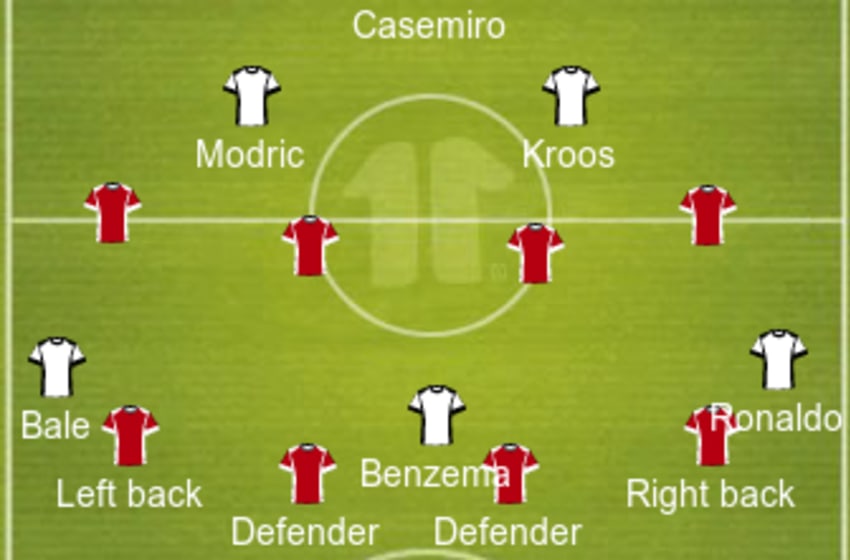 Now, this is how Real Madrid should try to position themselves the next season.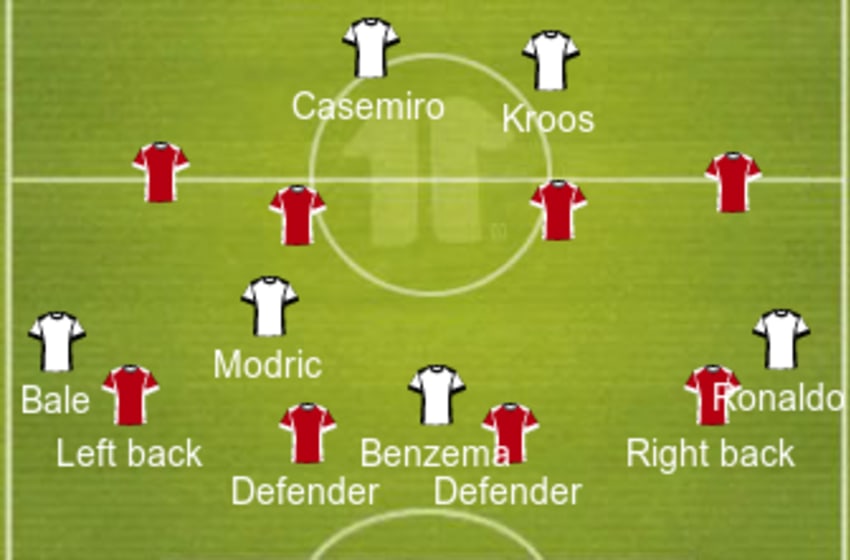 With Modric or kroos position between the opposition midfield, Real Madrid can have a player who's able to connect the midfield to the attack. This in fact, can prevent the opposition midfield to press. It also, can eliminate Real Madrid dependence on their fullbacks to create.